Services
Chocolate Fountains – Many Varieties!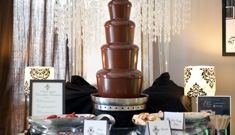 Your choice of any of our signature chocolate fondue recipes, including Milk Chocolate, Dark Chocolate, Semi-sweet, White, and don't forget to ask about our special house blend. Traditional accompaniments include fresh cut strawberries, pineapple chunks along with marshmallows, graham crackers, sugar wafer cookies, and pretzels. Premium dippers include Oreo cookies, Biscotti, Rice Crispy Treats, Cream Puffs, Potato Chips, Nutter Butters and more.
Queso / Nacho Cheese Fountains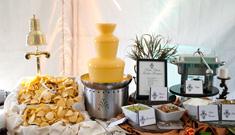 Cascades of queso flowing over a 3-tiered fountain, surrounded by a tiered array of fixings to make your 'all time' Tex-Mex favorite nacho cheese bowl. Perfect for reception cocktails hours, or late night appetizers, your guests will enjoy warm tortilla chips and queso topped with their very own combination of chili con carne, sour cream, guacamole, 'pico de gallo' salsa, and jalapeños.
Ice Cream Delight Sundaes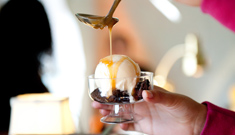 A great complement to any dessert hour, or a delightful treat for any social cocktail occasion. Ice Cream Delight™ servings include ice cream flavors from an extensive Blue Bell Creamery® assortment topped with choices of Hot Fudge, Hot Caramel, Whipped Cream, Sundae Nuts, Cherries, Sprinkles, Oreo Cookie Crumbs, Mini M&M's®, Sugar Wafers, and Waffle bowls.
(Click One to Learn More)
Beverage Fountains (Champagne, etc.)
A perfect supplement to your traditional bar service, our classic beverage (aka champagne) fountains will add a touch of elegance and convenience to your event. Beverage fountains hold up to 5-gallons of pulp-free liquid allowing you to serve 100 to 150 glasses. Suggestions include champagne, wine, sangria, margaritas on the rocks, punch, and milk.
Sizzlin' Brownies™ and Ice Cream
Think beyond the classic 'brownie's a la mode'…our gourmet brownies are warmed in brown butter sauce in front of your guests in one of our signature imported tava skillets and served with Vanilla Ice Cream, and your choice of Hot Fudge, Hot Caramel, Strawberry and Pineapple sauces, Whipped Cream, Sundae Nuts, Cherries, and Sprinkles.
S'mores Galore™
Everything about this all-American favorite is now presented in a display of vintage which will bring your party experience to the camping outdoors. Your guests will roast and sandwich their own marshmallow between Hershey's® Chocolate Bars and Graham Crackers…need we say more?
Hand Dipped Strawberries
Giving chocolates is a great way to show affection, but some say nothing is more scrumptious than a mouth-filling strawberry draped in the finest chocolate. Each berry is individually hand crafted and decorated with edible accents – contrasting chocolate swirls, tuxedo patterns, pecans, coconut, sprinkles and more.
Hand Dipped Ice Cream Pops™
One of our most innovative dessert creations, your guests will be handed a mini ice cream pop to dip into a cascading chocolate fountain and dress with edible accents including toasted almonds, Rice Krispies®, Mini M&M's®, sprinkles and coconut flakes.
Fruit and Cheese
Our sweet and savory fruit and cheese station is a great appetizer choice for any cocktail hour or social. The station is an elegant display of traditional four-cheese variety (Sharp and Mild Cheddars, Colby, Pepper Jack) accented by our very own Raspberry-Chipotle Cheese Torte paired with gourmet crackers, grapes and berries. Blue Cheese and Brie Cheese also available.
Contact Chocolate Fountain Express Today!
Events
Weddings
With a chocolate fountain, your guests will not feel like they have to stay in their seats during the reception. They will be up mingling at the fountain, trying new dippings, watching what others put on their plates and decide they need to try that also.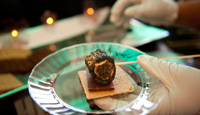 Dessert
For dessert offer strawberries, pineapple, cream puffs, macaroons, pound cake – the list is endless.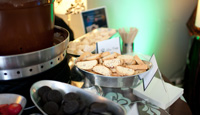 Appetizer
Have your guests enjoy a tasty treat while they wait for the bride and groom to arrive. Chocolate fountains are a great accompaniment to any fruit and cheese appetizer station.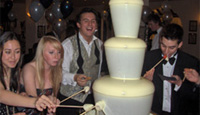 Dance
Need a break from all the fun and dancing? Step up to the chocolate fountain for a tasty treat.
We offer many options for having a chocolate fountain at your wedding and we want to work with you to accomplish the best results.
Contact Chocolate Fountain Express Today!
Corporate Events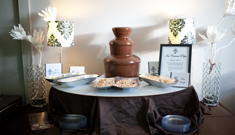 We provide top of the line service for your next corporate event. If you are celebrating a grand opening, anniversary, open house, or holiday party, having a chocolate fountain adds the right touch of appreciation for your clients and employees. Having a large crowd? Consider having 3 fountains serving white, dark and milk chocolate. Our attendants will manage each fountain. You and your guests need only enjoy the decadent taste of chocolate.
Contact Chocolate Fountain Express Today!
Other Parties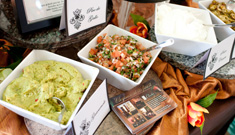 We can provide a chocolate fountain for any size holiday party. Having a few guests in for an open house? The small fountain is perfect.
Having a huge gathering? We can provide large and small fountains to meet your needs. Having one large fountain with 2 smaller ones on each side provides a spectacular presentation. Attendants will assist at each fountain, letting you enjoy the party.